Our End-of-the-Year Class luncheon and Awards will be Wednesday, June 1st from 11:30-12:45.  Parents are welcome to join us celebrate the 2021-2022 school year!
i-Ready Reading testing is May 3-4th.  Encourage your child to do their best!  They've got this!  Our class ROCKED i-Ready Math this week.  I will send home scores once all testing is complete.  
Academics:
ELA: Poetry/review
Math: Solving multi-step word problems
Science:  how animals and plants respond to changing seasons

Jaemes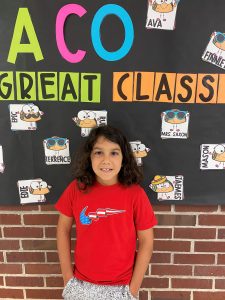 Thank you for being a POET (who didn't know it!) and focused this week!  
Important Dates:
5/3-5/4:  i-Ready Reading Testing
5/9-5/10:  FSA Math
5/16 – 5/19:  Swim Week
5/30:  No school
5/31:  GAME DAY – bring a *school friendly* game to play with classmates!  No electronics.
6/1:  End of the Year luncheon/awards – 11:30-12:45 *Sign up Genius will be going out soon*
6/2:  MOVIE DAY; Report Cards issued; last day of school – early release at 1:50
Reminders:
Check H.A.C weekly!
We wear RED on Friday!