Someone gifted me the rug from my wish list but the shipment didn't say who it was from.  Please let me know if you purchased this for my classroom so I can send you a thank you note! 🙂
Multiplication Pop-It's are on Amazon if your mathematician needs a little motivation!
What LEARNING and GROWING went on in room 315 this week:
Academics
ELA:  Figurative and descriptive language
Math: using multiplication or division to solve word problems
Social Studies:  U.S. Regions and the Constitution

Finn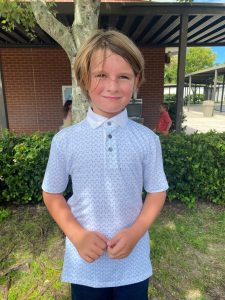 Thank you for being engaged and optimistic this week!
Important Dates:
October 15:  1st quarter ends
October 18:  Teacher planning Day
October 21:  P.T.A.O meeting – 8:45 am
October 26:  Report Cards issued (via HAC)
October 29:  Parade of Characters, Fall Festival
Reminders:
Please make sure your child arrives to school on time daily.  Our school day begins at 8:25 and I need students present and ready to learn!
Check H.A.C weekly!
We wear RED or R.B Hunt shirts on Friday!