Bravo!  Bravo!  Bravo!  These kiddo's did a phenomenal job presenting their biography reports this week.  I learned a lot of new information!  Reports are displayed outside our classroom.
Happy 8th birthday to Ellie!!!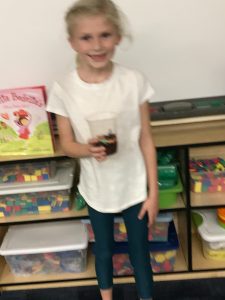 What LEARNING and GROWING went on in room 217 this week:
Academics
ELA:  Class Novel:  The BFG by Roald Dahl;  vocab dissection; context clues; pre-fix re
Writing:  addressing letters
Math:  addition strategies and validating answers
Social Studies:  Biography Reports
Students of the week:

Declan and Isabela 
Thank you for being kind and inquisitive this week!
Important Dates:
3/3:  Music in our Schools – 12:10-12:45, meet outside the music room door! 

3/8:  Daylight savings begins!  Don't be late for school!

3/6:  Mystery Readers – Tibor's dad – 9:30 am; Perry's stepdad -2:30 pm

3/11: A.R. kickball and donut party for student's who meet their goal!  🙂

3/12:  Field Day! 

3/16 – 20:  SPRING BREAK

3/23:  Classes resume

4/6:  Lighthouse field trip – 9:30 am

4/10 and 4/13:  No school

4/17:  Lianna Valla – Mystery Reader
Thank you so much to George's family for dropping off 3 HUGE bags of mulch and Kalilah's family for dropping off 2 HUGE bags of soil!  We also appreciate Maddox's family for sending in annual, wildflower, and zinnia seeds!  Zinnia's family will be bringing in the raised flower bed this weekend!  We are so excited!  If you are interested in signing up for something, the link is below.  🙂

Sign up genius link for our class gardening project!    https://www.signupgenius.com/go/70a0949afa72da5f58-raised