Thank you to the Caudill, King, Inman, Aunchman, Prevatt, Beidle, Gallagher, Valla, Stein, and Fernandez families for donating to our classroom raised flower bed project!  It turned out BEAUTIFUL and wouldn't have happened without your support!  I will keep you updated on the progress of our beds via website updates.   
A message from Isobel:  
Can you ask the kids to wear long sleeves and closed toe shoes for gardening classes on Monday?  (The mulch is a little scratchy until it sits for awhile). Hats, sunglasses, and gloves if they want. 
Thank you to Tibor's dad for being our morning mystery reader!  We enjoyed listening to your books "Dude" and "Flight."    We also learned A LOT about planes and being a pilot for a private jet!  RAD, DUDE!  🙂
Thank you to Perry's dad for being our afternoon mystery reader!  He read "I can be anything!" Jerry Spinelli .  We enjoyed discussing what we want to be when we grow up.  Best advice – DO WHAT YOU ARE PASSIONATE ABOUT!  We also learned a lot about MOTORCYCLES!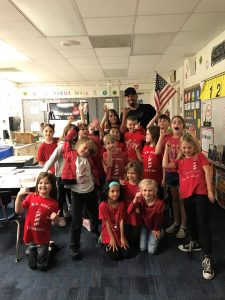 What LEARNING and GROWING went on in room 217 this week:
Academics
ELA:  Class Novel:  Charolette's Web by E.B. White;  key details; using suffixes to read and spell large words
Writing:  Poetry
Math:  subtraction strategies and validating answers
Science:  gardening
Students of the week:

Ellie and Nolen
Thank you for being responsible and trustworthy this week!
Important Dates:
3/8:  Daylight savings begins!  Don't be late for school!

3/11: A.R. kickball and donut party for student's who meet their goal!  🙂

3/12:  Field Day! *Be sure to wear shorts, a t-shirt, and tennis shoes.  Students may also bring a water bottle, hat, and sunglasses.  Please apply sunscreen at home.*

3/16 – 20:  SPRING BREAK

3/23:  Classes resume

4/6:  Lighthouse field trip – 9:30 am

4/10 and 4/13:  No school

4/17:  Lianna Valla – Mystery Reader