5th grade STEM Fair! Students enjoyed listening to 5th graders explain the scientific process with their experiments. We have quite a few siblings in our class as well!  
Thank you to Noah's Mom for being our MYSTERY READER Thursday!  We loved reading "Clark the Shark loves Christmas" and the yummy GUMMY sharks!  She also brought every student a light up Christmas light bulb necklace that students will wear the day of our holiday breakfast!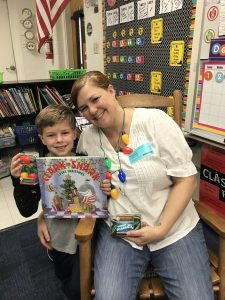 Thank you to Ellie's dad for being our MYSTERY READER today!  We enjoyed reading a few chapters from "Way of the Warrior Kid" and looking forward to continuing to read it.  Students were thrilled about getting the INSIDE SCOOP about being an Operation Chief for SJCFD!  What a courageous job!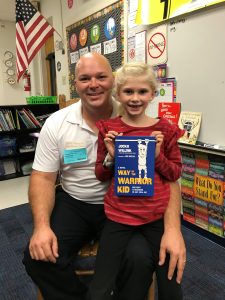 What LEARNING and GROWING went on in room 217 this week:
Academics
ELA:  Class Novel:  The Christmas Genie by Dan Gutman; comparing/contrasting stories; words ending with -er and -est
Writing:  Continued fictional animal stories focusing on elaboration
Math:  Place Value
Students of the week:

Maddox and Isabela
Thank you for being hard workers and optimistic this week!
Important Dates:
12/9:  i-Ready Math assessment
12/10:  Class Pics – Be sure to look your best!
12/12:  i-Ready Math assessment
12/13:  Mystery Reader:  Christine Schnitzler
12/14:  Breakfast with Santa
12/20:  Class Holiday Breakfast – 9:15-10:00 – early RELEASE!
Reminders:
THANK YOU to Heather Beidle for putting together our PRECIOUS food truck tree!  I sincerely appreciate all parents who donated gift cards, ornaments, and CASH!  Go check them out!  There are some winners!