Bubble gum blowing contest! Avery won!
What LEARNING and GROWING went on in room 315 this week:
Academics
ELA:  Informational text – text features
Math: Addition Strategies – make a ten, open number line, compensation, place value
Science:  Scientific Method

Kai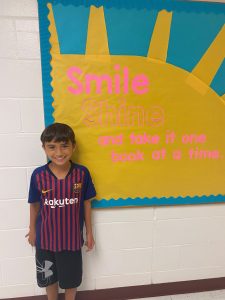 Thank you for being courteous and taking initiative this week!
Important Dates:
October 15:  1st quarter ends
October 18:  Teacher planning Day
October 21:  P.T.A.O meeting – 8:45 am
October 26:  Report Cards issued (via HAC)
October 29:  Parade of Characters, Fall Festival
Reminders:
I have enjoyed meeting with so many families this week and look forward to conferencing with more next week.  Thank you to each of you for making the start of this year so smooth and enjoyable.  The children are incredible thanks to each of you!
For the first nine weeks, many of the children read articles to achieve their AR goals.  While reading articles is awesome, it's also very valuable for them to read chapter books.  Chapter books develop their understanding of character development and inferential reading skills.  It also improves their memory retention skills and puts them on a path to become lifelong readers.  The purpose of 'AR' is not to get points, but to aspire them to love reading. Therefore, next nine weeks I will limit the number of articles they may read to reach their goal.
Please reach out to me if ever you have a concerns!
Check H.A.C weekly!
We wear RED or R.B Hunt shirts on Friday!