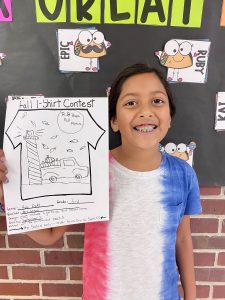 A HUGE congratulations to Ava for winning the Fall Festival t-shirt contest!  We can't wait to see your beautiful drawing on shirts all over the school!  Don't forget to order your child a shirt.  Information is on the Hunt's Catch-up.  We are SO proud!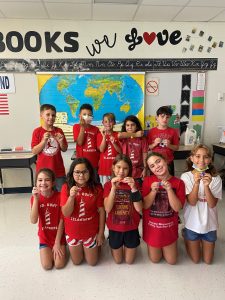 Congratulations to Eli, Vivi, Avery, Mia, Ava, Tex, Evelyn, Easton, Jaemes, Edie, Mason, and Ruby for earning 10 (or more!) A.R. points and receiving their CHAIN OF SUCCESS this week!  Way to go!
What LEARNING and GROWING went on in room 315 this week:
The district is also encouraging parents to make sure they are able to get into Schoology. It's most commonly used for the middle and high school, but it is another way for us to stay in touch. I am planning on having the kids do a project later on, and my Recess course is where everything will be. Mrs. Nehemias trained students with their username and password Wednesday and how to navigate through the site.
Want to be be notified when your child takes an A.R. test and what their score they received?  Go to the homepage under your students login and click the mailbox that says, "get email updates to track your students work."
I love prizes to enhance our classroom experience!  I am very grateful for any contributions.    You can find my wish list here:  https://www.amazon.com/hz/wishlist/ls/27CQ42ZVEY6DR/ref=nav_wishlist_lists_3?_encoding=UTF8&type=wishlist
Don't forget to practice your multiplication facts at home for fluency.  Please contact me if you would like more ressources.
Academics
ELA:  Recounting key elements in a story
Math:  Using grouping to multiply
Social Studies:  review
Mason Connor
Thank you for being responsible and showing respect this week!
Important Dates:
September 6th:  Holiday
September 7:  SAC meeting – 3:10 in the library
September 14:  Interims issued (on HAC)
September 16:  P.T.A.O meeting – 6pm
October 15:  1st quarter ends
October 18:  Teacher planning Day
October 21:  P.T.A.O meeting – 8:45 am
October 26:  Report Cards issued (via HAC)
October 29:  Parade of Characters, Fall Festival
Reminders:
Don't forget to check H.A.C weekly!
No school on Monday.
We wear RED or R.B Hunt shirts on Friday!