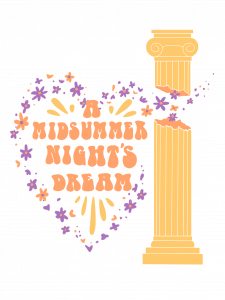 A Midsummer Night's Dream – October 21 – 23, 2021 at 7pm nightly in the Creekside HS Auditorium.  Doors open at 6:30pm.  See below for ticket purchase link and ticket information.
*The show is best suited for an older middle school and up audience as the Shakespearean comedy does incorporate minimal use of adult language and some staging of implied violence.
Ticket Information:
Pre Sale Tickets Only; tickets will not be sold at the door and should be purchased in advance via the links below.  The link for each show will close at 12pm each day.(Thursday night tickets must be purchased online by 12pm on October 21st.  Friday night tickets must be purchased online by 12pm on October 22nd.  Saturday night tickets must be purchased by 12pm on October 23rd.)
All seating will be reserved.

Seats will be marked with your last name.  Please look for your last name when you arrive at the show.
For those purchasing single tickets. If you are purchasing a single ticket and are planning to attend with other individuals also purchasing single tickets, please use one last name for the reservation in the field titled last name for seating; by doing this will be able reserve seats together for you.
A few of our shows from previous seasons: