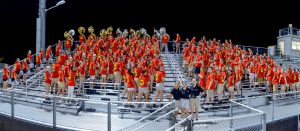 Mission: To develop an instrumental music program that compliments the district's goals, school's mission, and the needs of the students while maintaining a full course curriculum.
2019-2020 BAND CALENDER – NEXT YEAR calendar available here*
Thelonious Monk Jazz Institute Peer to Peer –  http://www.stjohns.k12.fl.us/video/
UPCOMING DATES for 2018-2019:
May 20th- 21st          Mini Band Camp for All 4-8pm
Welcome to the POWER of Creekside!
"Spirit, Pride and Honor"
We are looking forward to an amazing 2018-2019 year as we venture into new challenges and excitement. We will be a full band program of 220+ members and continuing to grow! Ensembles we offer are Wind Ensemble, Symphonic Band, Concert Band, Jazz One, Jazz Two, Jazz Three, Supersax Ensemble, Jazz Combo(s), Percussion Ensemble(s), Color Guard, Indoor Guard and more! The staff who will assist us this year are:
Rick Fowler – Director of Bands
Jackson Gilchrist – Assistant Director of Bands
– Guard Director
If you have

any

questions, don't hesitate to email me, a Booster officer or your section leader. We all look forward to the continuation of an amazing year and are eager to show our

Spirit, Pride

and

Honor

to our community of Saint Johns, Florida!!
As always, check often for updates.
Thank You All for making us the POWER of Creekside!
Rick Fowler
Director of Bands
Creekside High School
 Florida Bandmasters Association
Updated 5-7-19
*Saint Johns County has been selected as one of NAMM's (National Association of Music Merchants) Best Communities for Music Education*
*Saint Johns County was selected for the Thelonious Monk Institute as a Peer to Peer presentation and performance school*
*If you are a person with a disability who needs assistance, please contact Mr. Fowler*