KG – 2nd Grades – Mrs. Scribner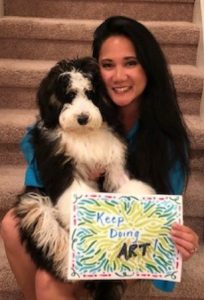 ---
Welcome to the ART Program at PVPV!

Dear PVPV Family,
I am thrilled to be your child's Art Teacher for grades Kindergarten to Second grade.  I am excited to go on this artistic learning adventure as we study the Elements of Art and Principles of Design.  As part of the visual arts education program, students will:
explore famous art, artists, and cultures of the world.

develop skills to understand and appreciate artwork.

participate in hands-on art activities.

develop critical thinking skills by studying their own and others' artwork.
More and more, the arts are playing a vital role in education and learning. Unlike many other subject areas, the arts introduce students to ways of thinking that are based on imagination and judgement. The arts encourage students to think and learn in a variety of ways, in addition to using language and logic skills.
We will be learning how to use tools and materials safely.  We will also be drawing, painting, printmaking, weaving, building sculptures, making pottery and creating collages.
As always, thank you for your strong support for the arts.
Sincerely,
Mrs. Scribner

Click here to contact Mrs. Scribner

Wish List (Donations): 
For Recycling Unit:  old maps, old credit cards/used gift cards and hotel keys, old CD/DVD/ vinyl records