A Sign-up Genius was sent out on Monday for our Holiday Luncheon.  I am also requesting $3 from each student by 12/15 (Venmo or cash) to purchase pizza for lunch on the afternoon of December 20th.  Thank you so much for making this a special time for your child!
Feeling crafty?  I am looking for 2 or 3 parent volunteers that would be interested in providing a holiday craft to work on with students during our craft rotation on December 20th. I plan to have an ornament making station for my block.  Crafts would need to be completed in 30 minutes to get through all rotations and volunteers would need to provide all materials.  Let me know if you are interested!  I appreciate your help BIG time!
Our class voted on the theme of "Saxon Sweet Treats" for our tree in the Festival of Trees PTAO event.  Please help make this happen!  We have a mini tree we need to decorate.  Here are a few ideas to help make our class tree a success:
small battery-powered lights
mini candy or ice cream ornaments
gift card to Rita's, MayDay, Coneheads,  Kilwin's, Savannah Sweets, Whetstone, etc. ($5 or $10)
Thank you for your help! All items are due by Monday, 12/12. Fingers crossed one of our students will be a winner of one of these awesome trees!
Academics:
ELA:   Historical Fiction continued
Math:  Mental math strategies using place value
Science:  Classifying plants
Social Studies: Traditions around the World

Hayden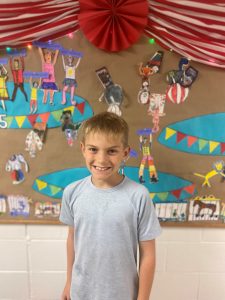 Thank you for being honest and sincere this week!
Important Dates:
12/7:  F.A.S.T math testing – make sure your child gets a good nights rest and encourage them to try their best!
12/15:  $3 cash due for pizza
12/17:  Breakfast with Santa 
12/20:  Holiday crafts and luncheon
12/21:  Polar Express Day!  Don't forget to wear your jammies! 🙂
12/21:  Last day of school before break – early release @1:50
1/5:  Students return to school
1/9-1/11:  F.A.S.T ELA testing – make sure your child gets a good nights rest and encourage them to try their best!
Reminders:
Check H.A.C and Schoology weekly!
We wear RED on Friday!