Welcome to
Ms. Sanford's Home Page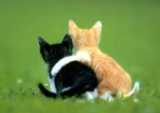 Love one another
Welcome to my Science class home page! Please feel free to send me an email at [email protected]. The class links at the right will help you navigate through the various pages in my website. Parents please scroll down to see all of the "parent information". Student's please scroll down to read important information for you.
Parent information: Students are aware of the makeup policy. It is their responsibility to make arrangements to makeup work missed.

Student information:  Any questions or makeups needed, students need to please come see me during their "Excel" time.  See me or the course syllabus for assistance.
Make-up tests, quizzes, and lab work: Tests and quizzes will be a different format than the original assessment.  Labs that are missed will be completed by doing a typed report covering the material that was done in the lab.  There is an expectation of responsibility on the part of the student. Most labs are virtually impossible to make up due to supply availability and the need for a partner.