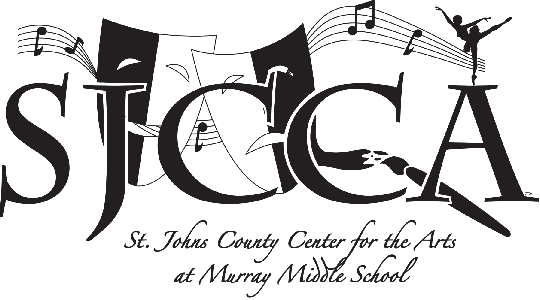 DANCE DEPARTMENT
MMS Dance Holiday Greeting from Catie Burkhardt on Vimeo.
UPCOMING DATES:


May 3rd and 4th: Spring Dance Concert (All level 2A, 3, 3A, 4 and 4A dancers)
All rehearsals and performances will be at the Lewis Auditorium at Flagler College.
Together We Dance Rehearsal Info
To purchase tickets, visit www.showtix4u.com and search "Together We Dance".
Please click on the link below for a full list of required dancewear:
DANCE DRESS CODE and SUPPLY LIST





Welcome to Murray Middle School's SJCCA Dance Department website!


 Dance Instructors:
Catie Burkhardt
Taryn Fuller



Dress Code and Supply List:

Female dancers-


2 black leotards
Pink tights
Tan tights
Black leggings
Black bike shorts
Pink ballet shoes
Tan jazz shoes
Pack of hair ties & bobbi pins
Composition book
Combination lock

Male dancers:


Solid black/white t-shirts
Black jazz pants
Black athletic shorts
Black ballet shoes
Black jazz shoes
Composition book
Combination lock

Weekly Schedule:
3 day dance week-
Monday- Ballet
Wednesday- Work Out/Conditioning
Friday- Jazz/Contemporary/Combo
2 day dance week:
Tuesday- Ballet/Contemporary
Thursday- Jazz

 

Thank you to Renee Unsworth, Milo Davis and Madi Mack for the photos on this site!

2018-2019 AUDITIONS:
January 29th, 2019 at MMS
9:00-10:00 am Beginning Dance (Last names A-L)
10:00-11:00 am Beginning Dance (Last names M-Z)
12:30-1:30 pm Intermediate & Advanced Dance

For the audition, students will be taken through a dance class which will include ballet, jazz, and learning a short combination to perform in small groups. Students must be dressed in clothing that he or she can move and stretch in. A leotard and tights or leggings is highly recommended for female dancers.

FAIR SHARE PAYMENT:


The fair share/pay to perform amount for the 2017-2018 school year is $125 per student. (For dancers in 2 classes, the fee is $150) This payment is what makes our performances possible as it pays for costumes, guest choreography and venue fees. Please choose one of the following payment options:

a. Full payment at Open House
b. Full payment by August 25th
c. Payment of $75 due by August 25th. Final payment of $50 by November 3rd.
d. Monthly payment of $25. Final payment due by December 15th.